Next workshow abroad is in San Miguel de Allende, Mexico
May 4–8, 2020
The info is here: Fantastical Creatures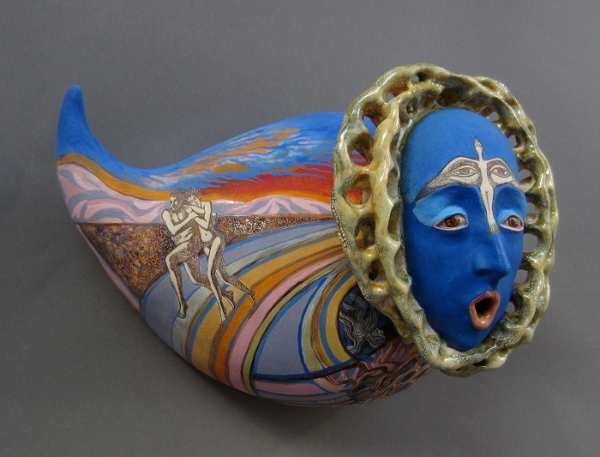 Adventures in Clay
Ceramic Sculpture Workshop
This workshop is an ongoing 2-day class conducted in the inspiring setting of Natasha's studio. The two sessions are set to be two weeks apart. Each session holds up to 8 students.
The available times are:
Saturday 2pm – 4pm
The cost of the course is $200 which includes 5 lb of clay, selection of cone 04 glazes, clay tools, plaster molds, and 2 kiln firings.
Eloquently put by the former student, If I ever write one of those "100 Things To Do Before You Die" type books, this class is sure to be in it.
The workshop is suited for people either new to ceramic sculpture or looking to improve their ceramic skills. The course is centered on fundamental principles of clay sculpting. Wherever you feel comfortable is where we begin. Any subject matter — whether "traditional" or "your own" — is acceptable. Small group size allows for individualized instruction.
The workshop covers:
concept development
symbolic expressions
hand-building techniques

pinch
slab
press molding
coil modeling

texture
glazing techniques

under-glazes
engobes
glaze application








In this workshop, you will not only learn, but also create a piece of artwork that is yours to keep! Bring an idea to start with or we'll create one that suits you. Teapots, masks, busts, reliefs, animals, abstractions, buildings and everything in between. All sculptures will be glazed and fired as needed.
For the next available workshop please contact Natasha at natasha@dikarevart.com or call her at (415) 503-8659.
Policy for Rescheduling and Cancellation
You can only reschedule the class once, no exceptions.
If you need to reschedule a class, you must notify me a minimum of 48 hours prior to lesson time. If at least 48 hours notice is given, we can reschedule a class at the earliest possible date.
If less than 48 hours notice is given, or no notice given at all, you will be charged for the canceled class. There will be no refunds or make-up for the classes canceled without 48 hours notice. If you want to schedule another class, you will have to pay for that class separately.
Your finished work must be collected within a month since the last session.