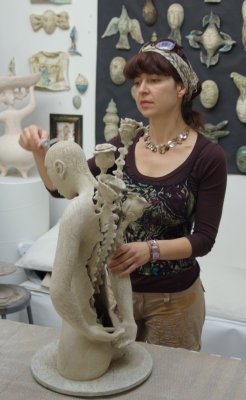 Natasha Dikareva is a sculptor and installation artist. She currently lives and works in San Francisco, California.
Dikareva's sculptural work transforms clay and metal into totems of the imagination. Her columns, cages, eggs, and human forms are simultaneously recognizable and ambiguous. What appear to be abraded, corroded surfaces bear the passage of time and refute it as well. The multivalent forms bespeak the beginnings of Western civilization — its ancient sites, its mythology, its cross-cultural influences — and address our contemporary attempts to reclaim a spiritual center in the past. "I try to challenge the viewer's perception and create a sense of mystery," Dikareva explains, "so when the viewer walks into the space he is immersed into a myriad of metaphorical possibilities."
NOTE: The website for Vladimir Dikarev is now hosted at http://vdikarevart.com
Click to go to Vladimir Dikarev's site.