Time-Space and Vision — International Ceramic Art Exhibition, 2012 Shanghai Art Expo
The Appreciation and Collection of Modern and Contemporary Ceramic Art, Guangzhen Zhou, 2012
26th Annual 30 Ceramic Sculptors, John Natsoulas Press, 2012
Ceramics Annual of America, John Natsoulas Press, 2012
Ceramics Annual of America, John Natsoulas Press, 2011
Look What I Got, Doctor... : an Artist of the Month interview by Terra Nova magazine. August 2008.
Only scanned version is available. Please click on the image of each page to read it.







Inside Eternity: an article by Mary Ann Vincenta describing this show in Pulse of the Twin Cities

Excavating Enigmas: an article by Molly Priesmeyer in the City Pages newspaper
NOTE: The website for Vladimir Dikarev is now hosted at http://vdikarevart.com
Click to go to Vladimir Dikarev's site.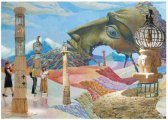 Inside Eternity: a show from the Spring of 2005, at the ArTrujillo Gallery in Minneapolis, MN

Immigrant Status: Faith in Women: a show from the Fall of 2005, at the Intermedia Arts in Minneapolis, MN
Searching for Beginnings: a show from the Summer of 2004 at the Augsburg College in Minneapolis, MN